At 98 years old, on April 8, 2021, Luther Earl Smith "Smitty", WWII veterinarian, 8th Army Air Corps, B-17 ball turret gunner (belly), prisoner of war and purple heart recipient, the the last living member of his large 10 crew (whom he considered family) left this land. He was an optimistic guy and he kept a positive attitude on his last breath. The three sons were visiting him three days before his death and when asked how he was, he replied "On top of the world!"
Smitty was born Luther Earl Smith on February 19, 1923 in Stow, Maine, to Luther Augustus Smith and Carrie Libby Smith. He was predeceased by both his parents, his ex-wife Charlotte Perkins Smith (who was a loving and caring mother and grandmother) and his two sisters Dora Smith Harrington and Doris Smith Graves.
He is survived by his three sons, Bruce E. Smith of Lovell, Maine; Daryl E. Smith of Conway NH; and Brian A. Smith of North Conway, who "loved his positive attitude and recognized that he was the best father a son could have." He is also survived by his grandchildren, Katie L. Smith, Emily Smith Mossman and Jennifer J. Julian, all of North Conway; Jessica Smith Fahey from Lovell, Maine; Carla Smith Kephart of Spencer, Mass .; and Daryl E. Smith Jr. of Bellows Falls Vt. There are several great-great-great-grandchildren, nieces and nephews, all of whom knew him as "grampy with a hook".
As a child growing up in Stow and Fryeburg, Maine, he always dreamed and wanted to fly! When war broke out he was 19 years old and enlisted on October 13, 1942 in the Army Air Corps and became a ball turret (belly) shooter on a B-17 Flying Fortress bomber. They flew missions from England to targets in Germany.
Its first mission took place on December 13, 1943. It will experience three major forced landings (crash) before being shot down during the "Great Week" during its 14th and last mission in February, Washington's birthday, 1944. So, three days after his 21st birthday his plane was shot down, he was injured and lost a hand, took his first and last parachute jump and became a prisoner of war for about eight months (which he always referred to as a guest of the German government). Phew!
All of his brave 10-man crew of "Winsome Winn 2" survived the war and dad has kept in touch with them all his life. He always considered them brothers, so in his honor and in their honor, here are their last names: Hunt, DeFrees, Moody, Miller, Hallam, Wright, Ecker, Moore, Kushner and Papa.
There is an image and a story we wanted to share that reflects his ingenuity and resourcefulness. In September 1944, he was transferred to a prisoner of war camp intended for the exchange of prisoners (he was returning home). He said they were treated much better there and the prisoners were allowed to present a variety show. Dad, who had lost his right hand, befriended an aviator who had lost his left hand. During their conversations, they discovered that prior to their injuries, they both played guitar and sang similar music. They wondered if they could work together and play a single guitar. Well they could and did and became a big part of the show, bringing the house down!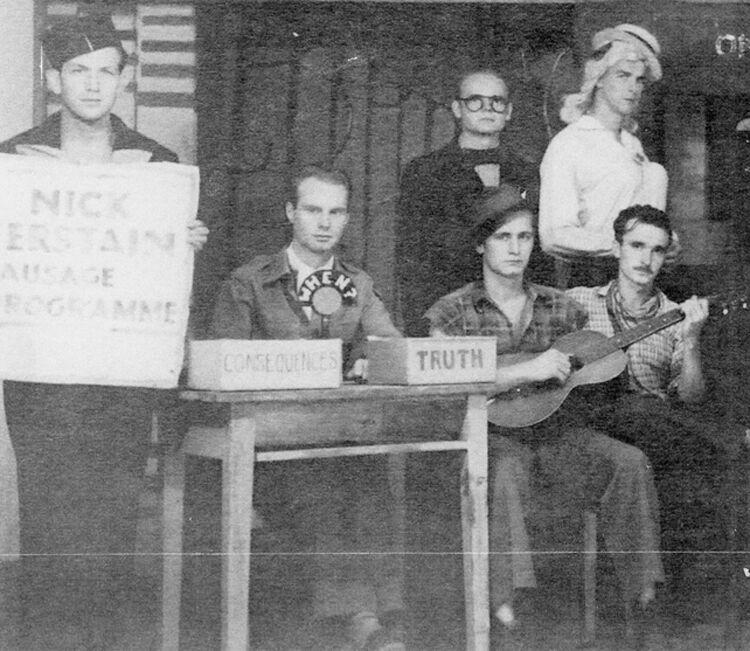 There are some excellent in-depth articles on the internet about Smitty by her friend and writer Tom Eastman of the Conway Daily Sun. They are as follows: "A farewell greeting to Smitty" April 10, 2021; "The greatest generation" November 7, 2020; "Smitty, WWII Vet Shares His Stories," November 10, 2012.
He returned from duty in the fall of 1944 just in time for the hunting season. He was officially released on April 26, 1945, bought a motorbike and gone, loving the feeling of freedom with the wind in his hair. In the summer of 1946, he bought the first new Harley Davidson sold in the state of Maine after the war. He goes to Laconia bike week with Charlotte Perkins and gets married. During their stay, they were nominated for the king and queen of the festival. Funny how things go, it turns out that nine months later the first of three sons has arrived.
Jobs were very scarce after the war, and he did several things including mowing roads, being a fire tower ranger on Pleasant Mountain, becoming a gunsmith and a hunting guide in Maine. He ended up getting the highest score on the civil service exam and became an RFD factor at Lovell, which he did until his retirement.
He never had the chance to grow up with his deceased father when he was very young, so I think he was determined to be a part of his children's lives. He was always there for his three sons teaching us all to hunt, fish, trap and play guitar, baseball, basketball, football and water skiing (he was an excellent slalom skier. ). I wonder how he taught us all to play guitar with one hand? He did a bit of figuration and shaped a piece of wood with a slit at the end where he put the pick (plectrum). He wrapped two mason jar rubbers around the stick and his arm and viola! He played with us like that for over 80 years.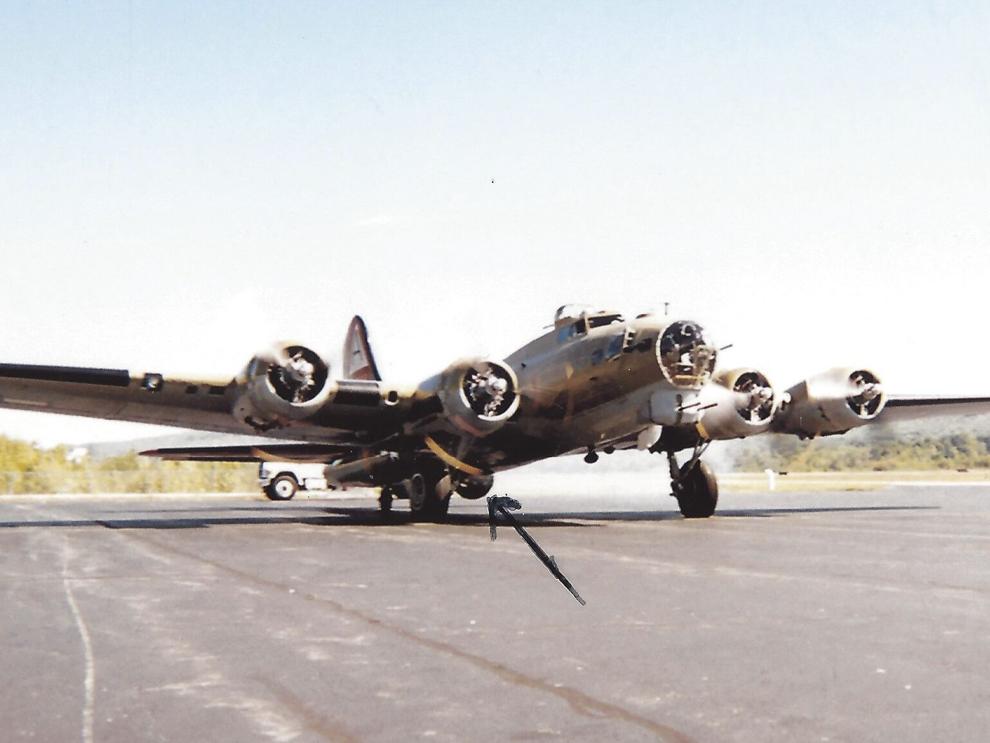 For 34 years he has lived in Conway. He has donated his time free of charge to several organizations and schools. Sharing his experience and history, he volunteered at the Wright Museum of World War II in Wolfeboro, NH, the Collings Foundation, the local RSVP organization, and school children learning history and war.
About 23 years ago, he was instrumental with a large group of local WWII aviators to launch the Gray Eagles. The idea was to have a small group get together a few times a year for lunch and just relax and share stories. It started with a few dozen veterans and eventually grew to over 150. I think one of the reasons for the success was their slogan: "No rules, no dues, everyone is a general.
In September 2007, while visiting a Collings Vintage Airshow, two sons were able to take a 35-minute flight with Smitty on one of the original nine B-17s airworthy in the United States. The image here is the actual plane with all of us on board taxiing on the runway. It was a heartwarming, almost spiritual experience for all of us!
He loved the outdoors, freedom and young people. He hated laziness, bullshit and tomatoes (forced to eat them at age 7, he successfully avoided them for the next 91 years). Each member of their family is left with many survival life lessons and simple mantras to ease the stress of everyday noise and make the day feel good. A lesson repeated often was to "take the time to smell the roses". He was giving, nonjudgmental, and loved everyone in his life unconditionally.
He was truly a great guy, a colorful character and a staple of the valley. He was also very humble so that according to his last wishes there will be no formal services or celebrations. He said, "When my life is over, let it be done."
The family deeply appreciates all the warm condolences and heartfelt messages. Special thanks to everyone at the local Conway VA center for their compassionate care, as well as the Gibson Senior Center for the delicious meals and the beautiful handmade quilt.
If you would like in his memory: do good deeds, consider a contribution to the Gibson Senior Center or local RSVP or a charity of your choice and, most importantly, to a current veterinarian or military member, "Thank you. them for their service ". So we'll end with the motto of his 384th Bomb Group of the 8th Air Corps of WWII, which he often said whenever a delay, setback or adversity occurred: "Keep it up." show on the road!